Freda Doris POWE [1262]
Marriage (1): Richard CLEMENTS [1561] on 4 Sep 1933 in Halifax, Nova Scotia.
Died: Mar Q 1967, Swansea, , Glamorgan, Wales aged 62

General Notes:
This info needs documentation, Hazel wrote to me and gave me this info about Freda, that she married a Canadian Hockey Player by the name of ? Clemons, lived in Canada till he died, had a son Richard
Nov 2001 - confirmed that she at least came to Canada in 1930

Name:Freda POWE Date of departure:2 August 1930 Port of departure:Southampton Passenger destination port:Halifax, Canada Passenger destination:Halifax, Canada Age:24 Marital Status: Sex:Female Occupation:Domestic Passenger recorded on:Page 1 of 14

Ship: Official Number: Master's name: Steamship Line: Where bound: Square feet: Registered tonnage: Passengers on voyage:
WESTERNLAND 140596 J H Doughty Red Star Line New York, USA 5403 16313 168


8b 724 death mar q 1967 swansea

Interesting. In 1925 Freda Powe had an illegitimate son William as registered on the Poor Law records. Born Xmas day. But he died Q1 1926 so only lived a max of 3 months. 1

Noted events in her life were:

1. Lived at: 15 Greenfield Street, 1906, Swansea, , Glamorgan, Wales.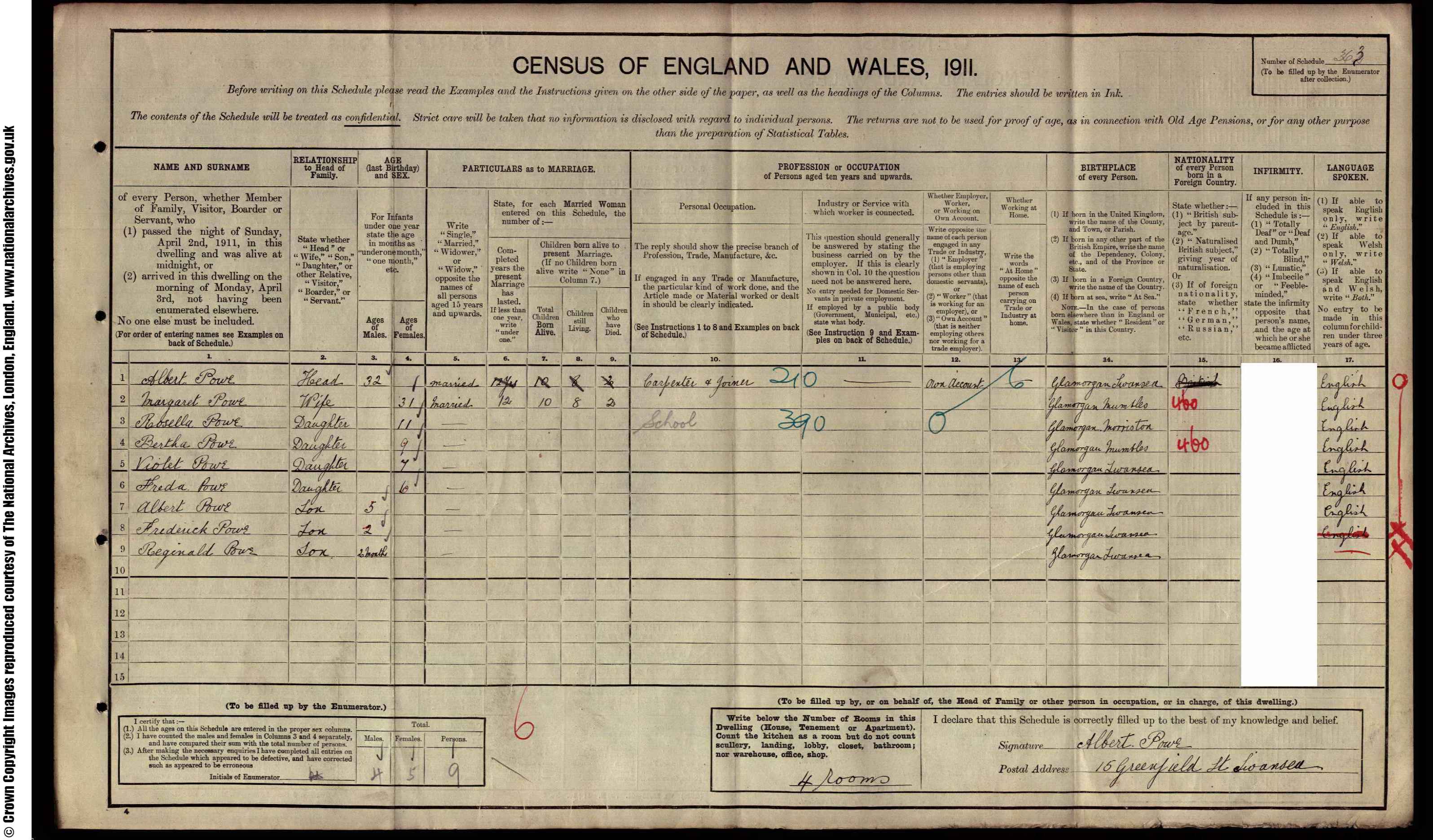 2. Lived at: 15 Greenfield Street, 1911, Swansea, , Glamorgan, Wales.
3. Occupation: Domestic, 1930, Dartmouth, Nova Scotia. 3
4. marriage licence, 4 Sep 1936, Halifax, Nova Scotia.
5. Occupation: Housewife, 1938.

Freda married Richard CLEMENTS [1561] [MRIN: 451], son of Richard FIELD [9600] and Jane CLEMENTS [9601], on 4 Sep 1933 in Halifax, Nova Scotia. (Richard CLEMENTS [1561] was born on 12 Oct 1907 in Newfoundland, died on 29 Jun 1936 in Halifax, Nova Scotia. and was buried on 1 Jul 1936 in Camp Hill Nova Scotia.). The cause of his death was Recurring Post Operative Haemorrahage.
Marriage Notes:
:Richard Clements
Gender:Male
Spouse Name:Freda Doris Powe
Spouse Gender:Female
Marriage Date:4 Sep 1933
Marriage Place:Halifax, Halifax
Registration Year:1933
Registration Book:70
Registration Page:622