Family Links
Spouses/Children:
1. Harold WESTBROOK [1717]

Emily Alice HARRYMAN [1356] 2 3

General Notes:
In Gravesend in 1911

Name:HARRYMAN, Emil Alice

Registration District: HelpGreenwich

County: London

Year of Registration: 1897

Quarter of Registration: Jul-Aug-Sep

Mother's Maiden Name:Not available before 1911 Q3

Volume No: Help1D

Page No: Help1170
Baptism Notes:
Record Transcription:
Thames & Medway Baptisms
What can I do with this record?
Attach this record as a source to a person on your tree. Also update people and relatives with details from this record
Is this the same person?
We've found the following potential record matches for the same person in other record sets
Emily Harryman

Record: Census Record

Location: London & Kent, England

Year of census: 1901

Emily A Harryman

Record: Civil Marriage & Divorce Record

Location: Kent, England

Year of marriage: 1923

Record setThames & Medway Baptisms
First name(s)Emily Alice
Last nameHarryman
Baptism year1897
Birth year1897
CountyKent
CountryEngland
PlaceChristchurch
Mother's first name(s)Kate
Father's first name(s)George
Birth date? ? 1897
Baptism date18 Jul 1897
Source
East Greenwich Christchurch baptisms 1868-1912
CategoryBirth, Marriage & Death (Parish Registers)
SubcategoryParish Baptisms
Collections fromEngland, Great Britain
Rob Cottrell, Trueflare Limited

Transcriptions © Rob Cottrell, Trueflare Limited



Events
• Occupation: Headteacher at a school in Dartford. 5 6 Ron Harryman cited Gravesend but Emily's daughter has confirmed that it was in fact in Dartford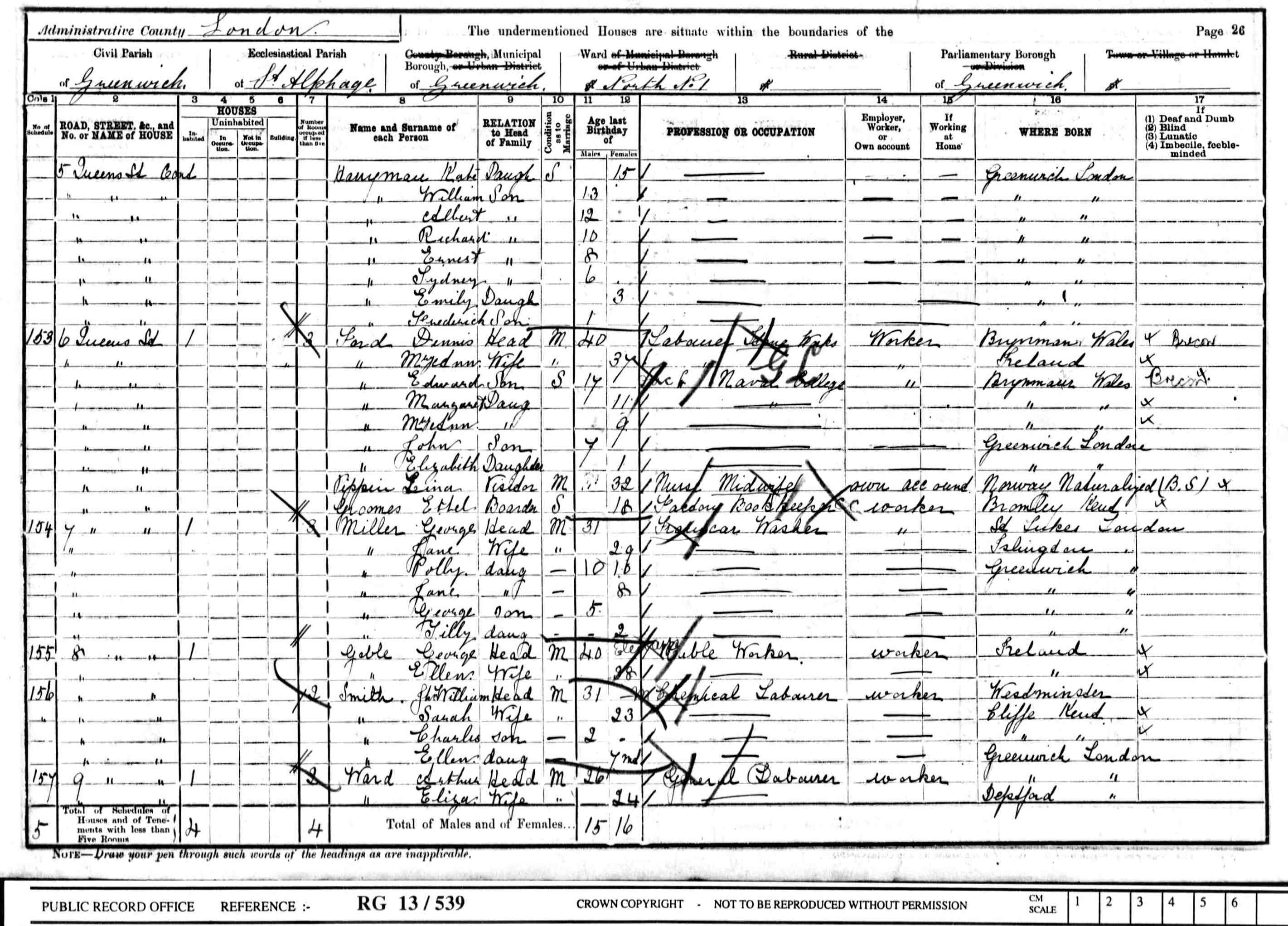 • Lived at: 5 Queens Road, 1901, Greenwich, , Kent, England. 7
• Occupation: Elementary School teacher, 1921, Northfleet, Gravesend, , Kent, England.
• Visited: Harry and Emma Stevenson, 24 Apr 1921.

Emily married Harold WESTBROOK [1717] [MRIN: 494] Jun Q 1923 in Gravesend, , Kent, England.1 (Harold WESTBROOK [1717] was born in 1894 1 and died in 1969 in Staplehurst, Kent, England 1 5 8.)
Marriage Notes:
Marriages Jun 1923 (>99%)
Harryman Edith A T Rochester B. Stortford 3a1473
Harryman Emily A Westbrook Gravesend 2a1417
Harryman Frederick V Humpherys Strood 2a1421