Family Links
Spouses/Children:
1. William Anthony Gibbons [8568]

Sophia Harryman [1972] 1 2
Baptised: 19 Jun 1881, Maidstone, , Kent, England
Marriage (1): William Anthony Gibbons [8568] on 24 Apr 1910 in Southwark, Surrey, England
Buried: 28 Jan 1969, Kensington, London, England

General Notes:
HARRYMAN Sophia Maidstone 2a 697 jun q 1881

ame:HARRYMAN, Sophia

Registration District: HelpMaidstone

County: Kent

Year of Registration: 1881

Quarter of Registration: Apr-May-Jun

Mother's Maiden Name:Not available before 1911 Q3

Volume No: Help2A

Page No: Help697
Baptism Notes:
ameHarryman
GenderFemale
Birth year-
Birth place-
Baptism year1881
Baptism date19 Jun 1881
ResidenceMaidstone, Kent, England
PlaceMaidstone
CountyKent
CountryEngland
Father's first name(s)David
Father's last nameHarryman
Mother's first name(s)Anne
Mother's last name-
Record setEngland Births & Baptisms 1538-1975
CategoryBirth, Marriage & Death (Parish Registers)
SubcategoryParish Baptisms
Collections fromEngland, Great Britain
Index (c) IRI. Used by permission of FamilySearch Intl
Burial Notes:
cremated


Noted events in her life were:
1. Lived at: 88 Melville Place, 1891, Maidstone, , Kent, England. 3
2. Lived at: 88 Melville Road, 1901, Maidstone, , Kent, England. 2
3. Occupation: Housekeeper, 1901, Maidstone, , Kent, England. 1 2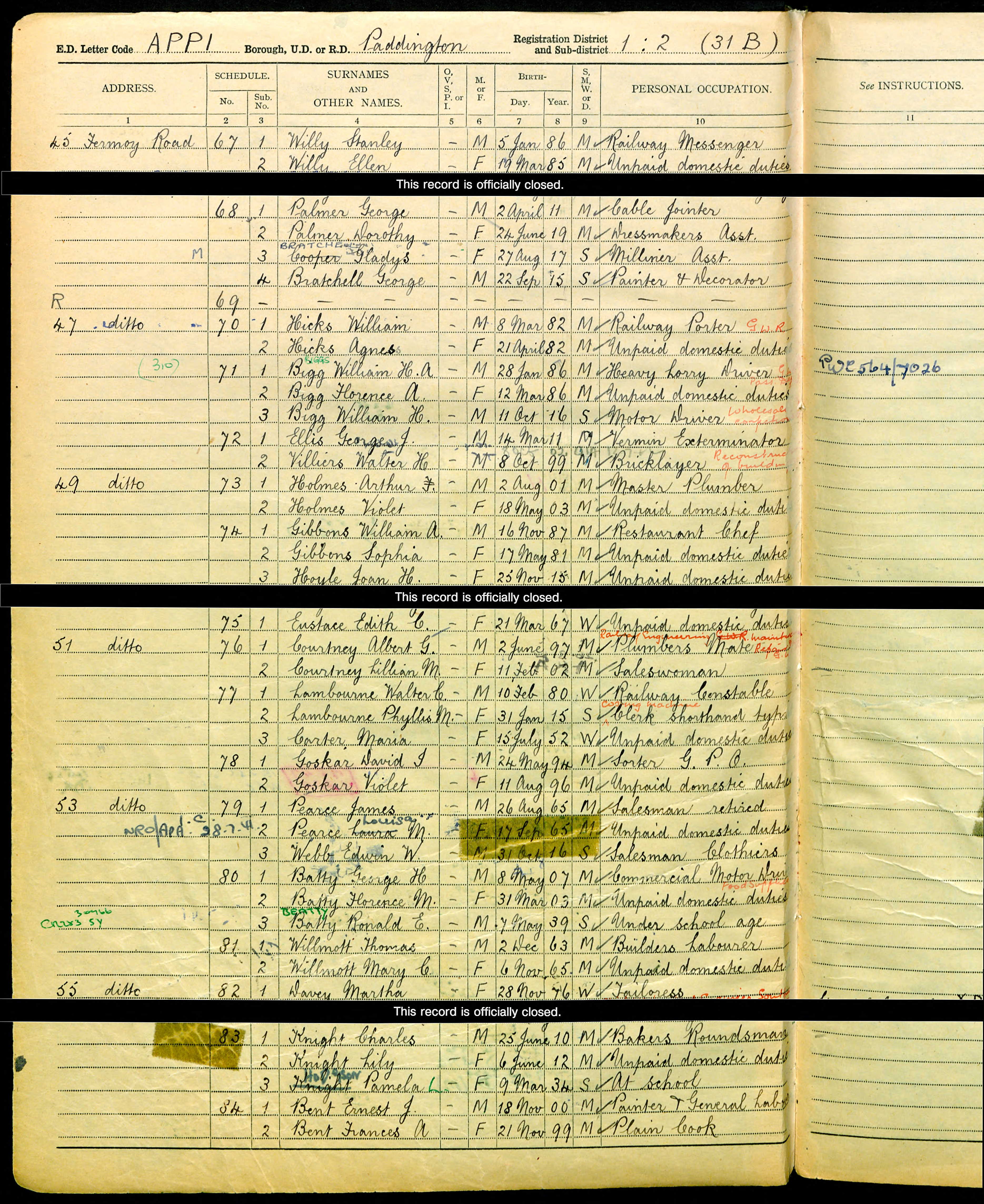 4. Lived at: 49 Fermoy Stree, 1939, Paddington.

Sophia married William Anthony Gibbons [8568] [MRIN: 977] on 24 Apr 1910 in Southwark, Surrey, England. (William Anthony Gibbons [8568] was born on 16 Nov 1887 and died on 14 Apr 1956 in Paddington, .)
Marriage Notes:
Marriages Jun 1910 (>99%)
HARRYMAN Ernest Lewisham 1d1465
HARRYMAN Sophia Southwark 1d68
HARRYMAN William Norman Malling 2a1640