Family Links
Spouses/Children:
1. George E. Wilson [9396]

Betty Jean Wilson [12162]
Rose Beatrice Harryman [1974] 1
Marriage (1): George E. Wilson [9396] Jun Q 1920 in E. Ashford
Died: Sep 1990, Ashford, , Kent, England aged 90

General Notes:
ame:HARRYMAN, Rose Beatrice

Registration District: HelpMalling

County: Kent

Year of Registration: 1900

Quarter of Registration: Jul-Aug-Sep

Mother's Maiden Name:Not available before 1911 Q3

Volume No: Help2A

Page No: Help718
Death Notes:
Name: Rose Beatrice Wilson
Death Age: 90
Birth Date: 24 Jul 1900
Registration Date: Sep 1990
Registration district: Ashford
Inferred County: Kent
Volume: 16
Page: 143

Noted events in her life were:
1. Lived at: Fostal Road, 1901, Malling, Kent, England.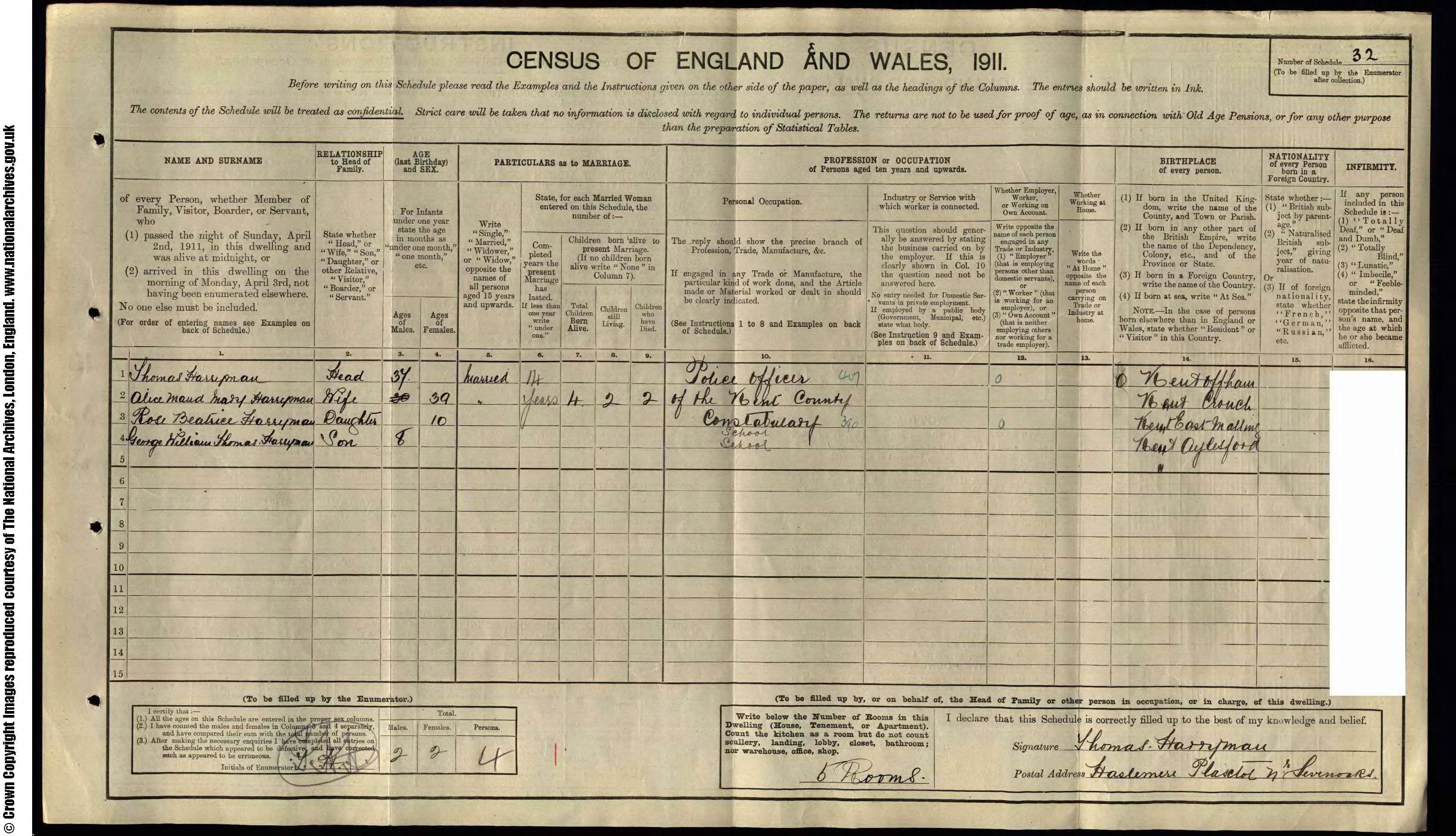 2. Lived at: Haslemere Place, 1911, Nr Sevenoaks, Kent.
3. Lived at: Malling, 1939, Kent.

Rose married George E. Wilson [9396] [MRIN: 2309] Jun Q 1920 in E. Ashford. (George E. Wilson [9396] was born on 18 Sep 1890 and died after 1939.)
Marriage Notes:
not sure if this actually fits
First name(s)Rose
Last nameHarryman
Birth year1894
Marriage year1920
Marriage year as transcribed1920
Marriage date? Apr 1920
Marriage placeBonnington
Spouse's first name(s)Terry Edwin
Spouse's last nameWilson
Groom's first nameTerry Edwin
Groom's last nameWilson
Groom's birth year1890
Groom's age30
Groom's marital statusBachelor
Groom's occupationPoliceman
Groom's residenceBonnington
Groom's father's nameGeorge
Bride's first nameRose
Bride's last nameHarryman
Bride's birth year1894
Bride's age26
Bride's marital statusSpinster
Bride's residenceBonnington
Bride's father's nameThomas
Banns or licenceBanns
CountyKent
Record sourceBonnington marriages 1682-1962
Record setKent Marriages
CategoryBirth, Marriage & Death (Parish Registers)
SubcategoryMarriages & divorces
Collections fromUnited Kingdom


First name(s)Rose
Last nameHarryman
Banns year1920
Banns date07 Mar 1920
PlaceBonnington
Spouse's first name(s)George Edwin
Spouse's last nameWilson
Groom's first name(s)George Edwin
Groom's last nameWilson
Groom's marital statusBachelor
Groom's parishBonnington
Bride's first name(s)Rose
Bride's last nameHarryman
Bride's marital statusSpinster
Bride's parishWest Malling
CountyKent
CountryEngland
Record SourceBonnington banns 1754-1962
Record setKent Banns
CategoryBirth, Marriage & Death (Parish Registers)
SubcategoryMarriages & divorces
Collections fromUnited Kingdom