Family Links
Spouses/Children:
1. Sarah E. Kirkby [6006]

William Harryman [1986] 1
Born: 9 Apr 1893, Denton, Gravesend, Kent, England 1
Marriage (1): Sarah E. Kirkby [6006] Sep Q 1921 in Gravesend, , Kent, England
Died: 1959 aged 66
Buried: 31 Mar 1959, Gravesend Kent

General Notes:
probably the one marrying ms Kirkby in 1921
Marriages Sep 1921 (74%)

Harryman William Kirkby Gravesend 2a 1775

Name:HARRYMAN, William

Registration District: HelpStrood

County: Kent

Year of Registration: 1893

Quarter of Registration: Apr-May-Jun

Mother's Maiden Name:Not available before 1911 Q3

Volume No: Help2A

Page No: Help530
Burial Notes:
First name(s)William
Last nameHarryman
Birth year1894
Burial year1959
Burial date31 Mar 1959
Age at death-
Residence29 Meadow Walk Maidstone
PlaceGravesend
Burial placeMunicipal Cemetery
CountyKent
Record setNorth West Kent Burials
CategoryBirth, Marriage & Death (Parish Registers)
Record collectionDeaths & burials
Collections fromUnited Kingdom

Noted events in his life were: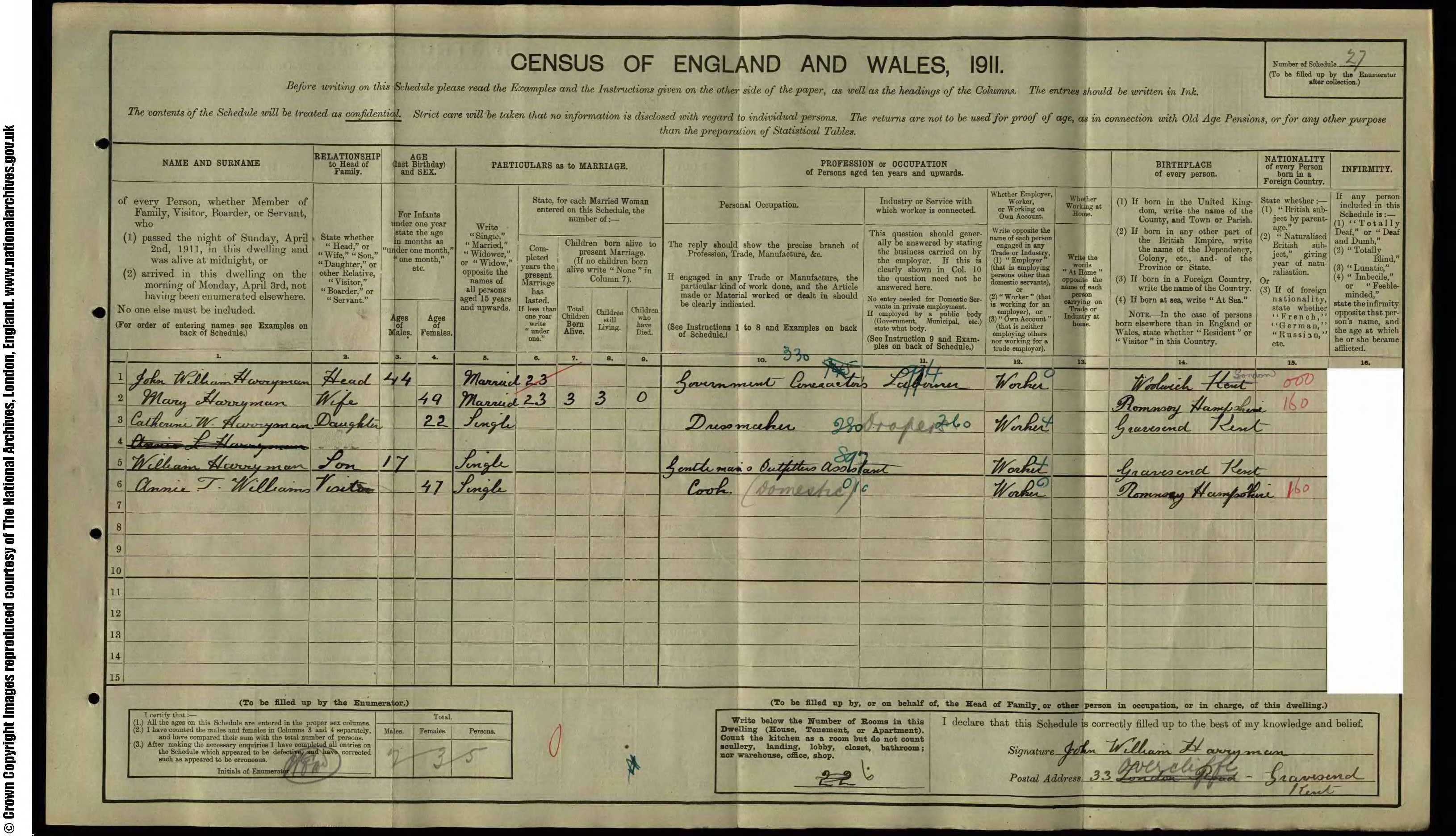 1. Lived at: 33 Overcliffe, 1911, Gravesend, , Kent, England.
2. Lived at: 3 Pinnocks Avenue , Gravesend M.B., Kent, England, 1939.
3. Occupation: Men's wear Manager, 1939, Gravesend M.B., Kent, England.

William married Sarah E. Kirkby [6006] [MRIN: 1636] Sep Q 1921 in Gravesend, , Kent, England. (Sarah E. Kirkby [6006] was born on 12 Apr 1892 and died after 1939.)
Marriage Notes:
Marriages Sep 1921 (>99%)
Barden Ernest J Gibbings Gravesend 2a1775
Gibbings Nellie Barden Gravesend 2a1775
Harryman William Kirkby Gravesend 2a1775
Kirkby Sarah E Harryman Gravesend 2a1775