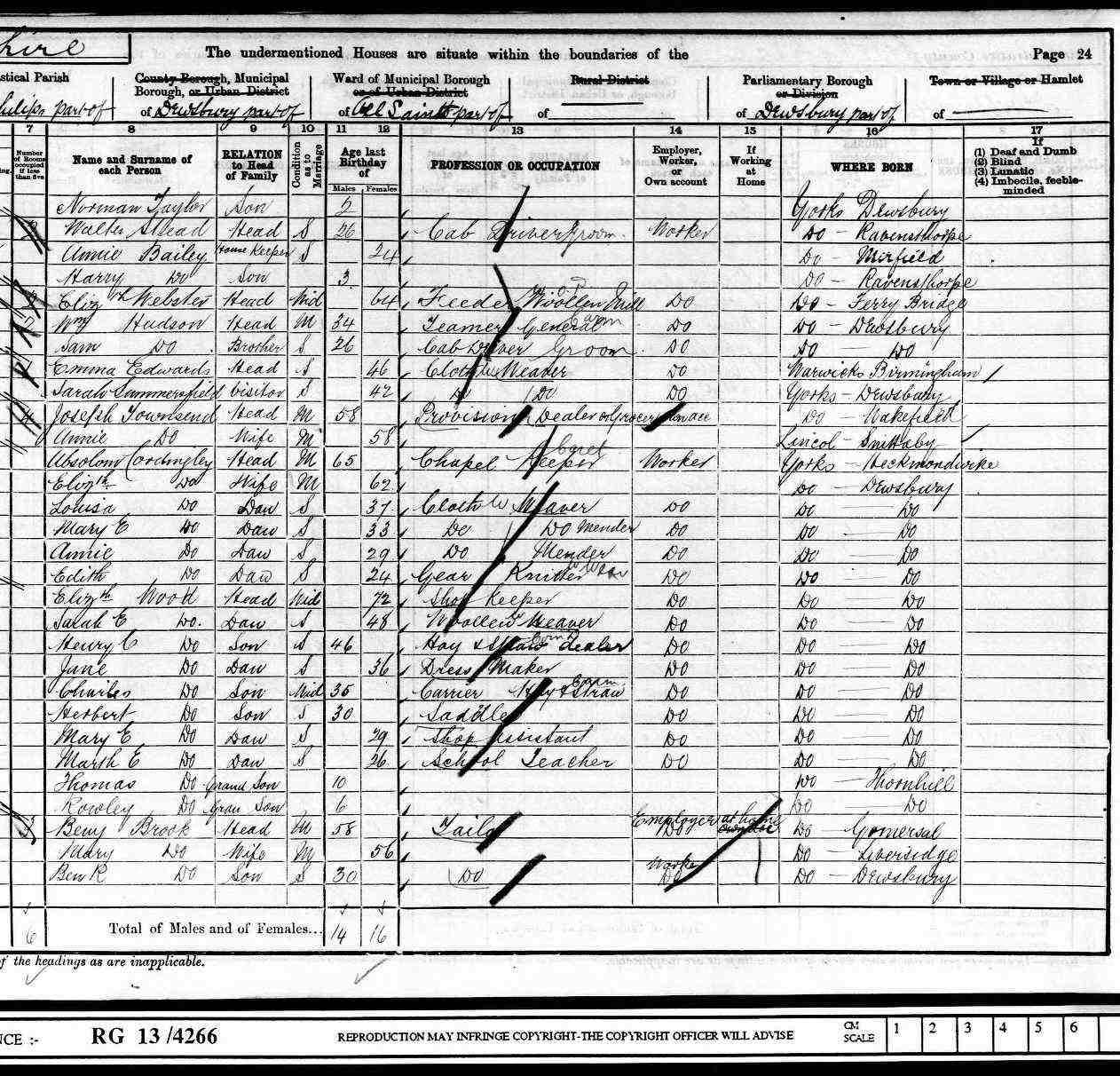 Annie BAILEY [3916]
(Cir 1876-After 1901)
Family Links
Spouses/Children:
1. Unknown

Annie BAILEY [3916]
Born: Cir 1876, Mirfield, , Yorkshire, England
Marriage (1): Unknown
Died: After 1901

General Notes:
It is just possible that this Annie Bailey is the cousin (A.Graham) who is the informant on the death certificate for William Henry Bailey Parkinson. Cannot be determined at this point
I;ve checked all annie baileys marrying in yorks or sunderland - from 1901 to 1911 and no Grahams

possible sighting in 1901

ameRelationConditionSexAgeBirth
YearOccupation
DisabilityWhere BornOriginal
census
image
STEAD, WalterHeadSingleM261875 Cab Driver
Ravensthorpe
Yorkshire VIEW
BAILEY, AnnieHouse KeeperSingleF241877
Mirfield
Yorkshire VIEW
BAILEY, HarrySonM31898
Ravensthorpe
Yorkshire VIEW
RG number:
RG13Piece:
4266Folio:
29Page:
24

Registration District:
DewsburySub District:
DewsburyEnumerationDistrict:
2Ecclesiastical Parish:
St Philips

Civil Parish:
DewsburyMunicipal Borough:
Address:
8, Back Cliffe Street, DewsburyCounty:
Yorkshire (West riding)
Can't find Harry in 1911

Noted events in her life were:
1. Lived at: Fenton Folly, 1881, Mirfield, , Yorkshire, England. 1

Annie married.

Sources
---
1 (1881 English and Welsh Census(London, TNA/Ancestry.co.uk, 1982) , Web site showing copies of original enumerator schedules), CEN 1881 rg11 4557 62 13.