Elizabeth DAIN [9446]
Born: Cir 1866, Bainton, , Yorkshire, England
Died: After 1901

General Notes:
Births Mar 1866 (>99%)
DAIN Elizabeth Stamford 7a301

1901 census - household transcription

Person: DAIN, Elizabeth
Address: 2, Grange Place, St Peter Port

Cost:
You will be charged 3 credits for a transcript and 3 credits for an image, unless you have purchased a subscription for this set of records.

census search results1901 address search redefine current search
NameRelationConditionSexAgeBirth
YearOccupation
DisabilityWhere BornOriginal
census
image
GARDNER, JohnHeadMarriedM301871 Managing Director O G H Hotel
England VIEW
GARDNER, Catherine JWifeMarriedF441857
England VIEW
GARDNER, John DSonM91892
St Peter Port
Guernsey VIEW
DAIN, ElizabethNurseSingleF351866 Childrens Nurse (Domestic)
England VIEW
JEFFREY, Ada AServantSingleF171884 House Parlour Maid (Domestic)
St John's
Guernsey VIEW
RG number:
RG13Piece:
5320Folio:
5Page:
2

Registration District:
GuernseySub District:
Guernsey - St Peter PortEnumerationDistrict:
1Ecclesiastical Parish:
St Peter Port

Civil Parish:
St Peter PortMunicipal Borough:
Address:
2, Grange Place, St Peter PortCounty:
Guernsey and Adjacent Islands

Noted events in her life were: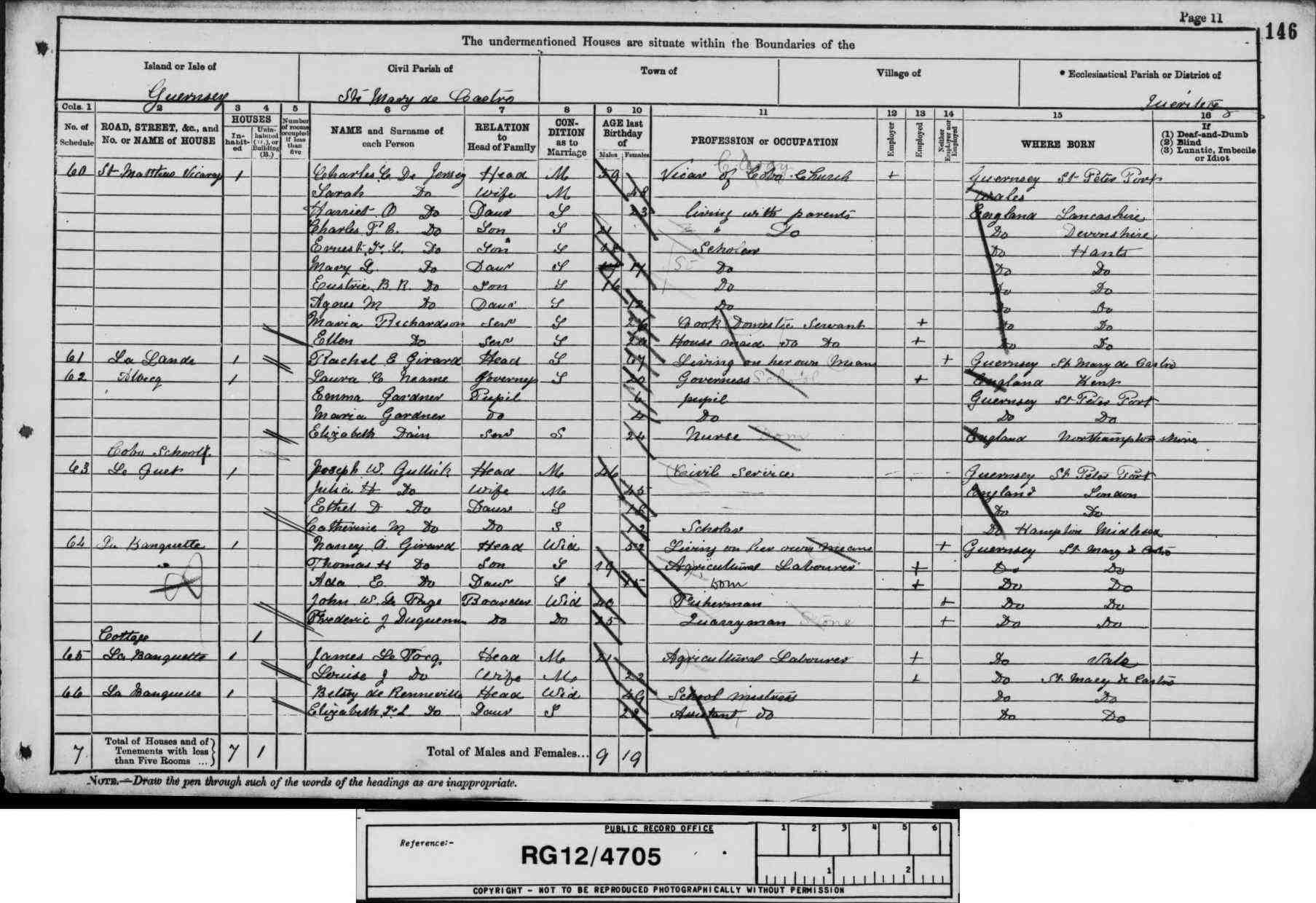 1. Occupation: nurse, 1891, St mary de Castro, Guernsey.
2. Occupation: Children's nurse, 1901, St. Peters Port, Guernsey.