Thomas WILSON [1341]
(1842-Between 1861/1871)
Thomas WILSON [1341] 1
Born: Dec 1842, Hermitage, Reynoldstone 1
Died: Between 1861 and 1871

General Notes:
no obvious Thomas Wilson in 1901 census
in 1851 census the ages of the John and Thomas hve been transposed
poss died in 1877
National Burial index records
First name(s): Thomas Last name: WILSON Date of burial: 12 Jun 1877 Age at death: Calculated year of birth: Not known Place of burial: Reynoldston Dedication: St George County: Glamorganshire Notes: Reynoldston St George: Denomination: Anglican Coverage: 1682 - 1993 Number of entries: 1,108 Data provider: Glamorgan Family History Society

poss death
Deaths Sep 1862 (>99%)
Wilson Thomas Swansea 11a253

Noted events in his life were:
1. Lived at: Reynoldstone, 1851, Glamorgan, Wales. 3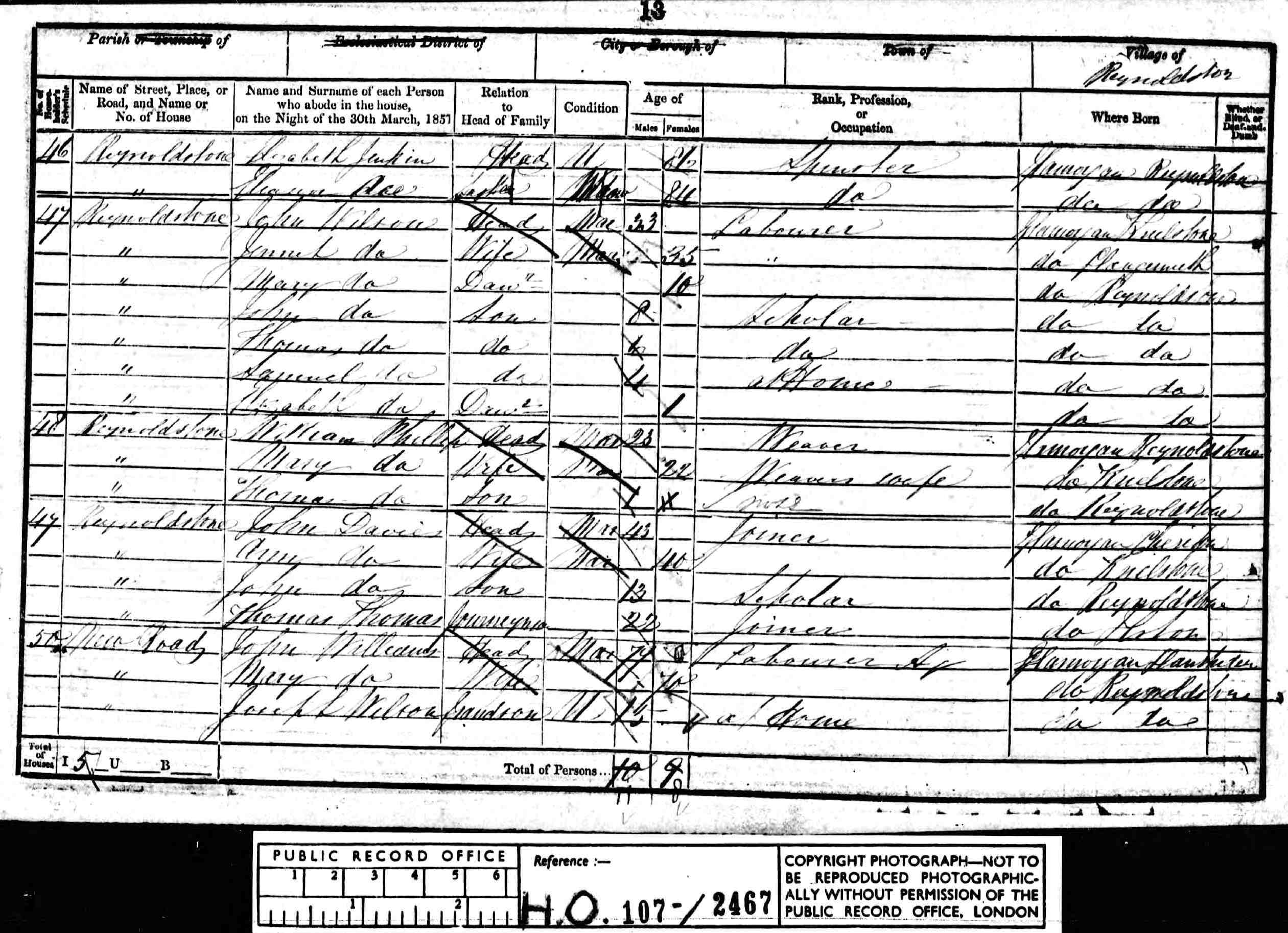 2. Lived at: Reynoldstone, 1861.

Sources
---
1 LDS, Reynoldstone.
2 LDS, Reynoldstone, PR Reynoldstone 0104490.
3 Published by Ancestry.co.uk (1851 English and Welsh Census(London, TNA/Ancestry.co.uk, 1952) , Web site showing copies of original enumerator schedules), CEN 1851 ho 107 2467 page 13.